EF Lewis -- Falls Run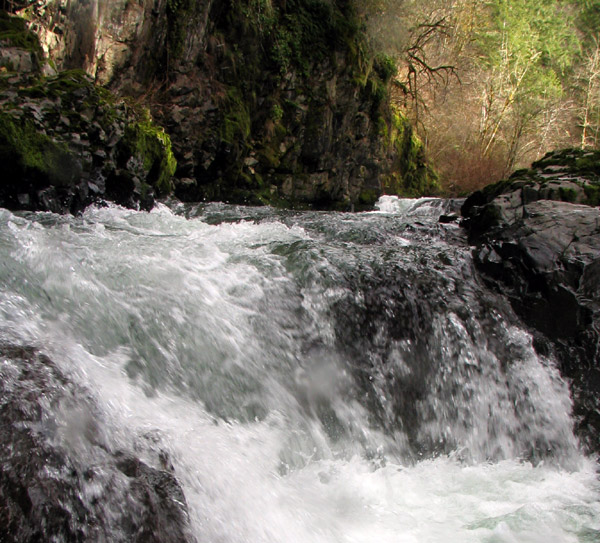 Dragon's Back
with
Screaming Left
in the distance.
A wonderful day on the Falls Run, this time with flows slightly higher at 540 cfs. Still low, and I look forward to seeing the run at 700 cfs next time. Shaun and I met up with boaters from Bellingham and PDX, and I'd list names, but there's no way I get them all right. Suffice to say we had a great time -- and thanks to everyone who came out.
Photos are posted in
the gallery.
Video:
Sunset Falls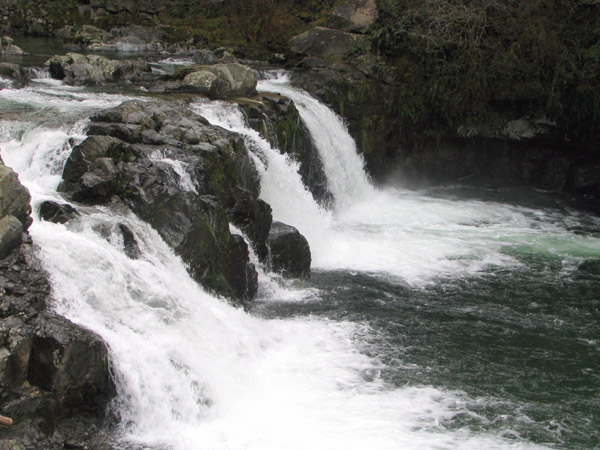 This run begins with
Sunset Falls
-- the purpose of our whole trip. Shaun was excited to try his first waterfall, and I was hoping to actually stay in my boat this time. First, however, I had to have a boat. My Wing is out of commission til I repair the seat attachment, and the NRS boat was down with one foot peg and both thigh straps being busted. Nothing for it but to get creative at the putin: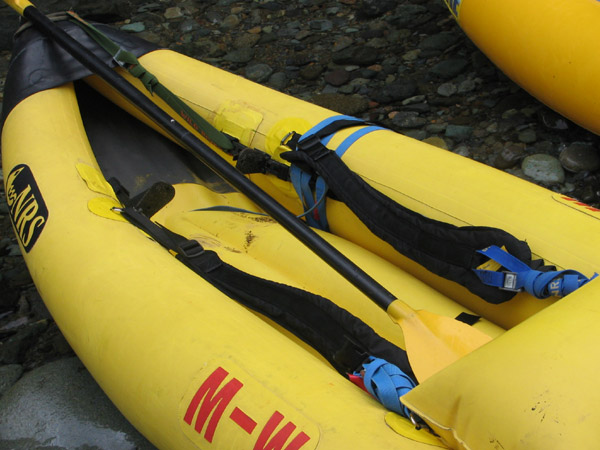 Brian's jury-rigged IK. SIX structural straps.
It worked though, and I made a successful run: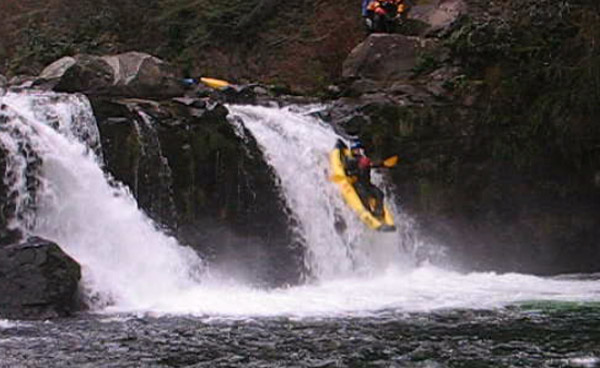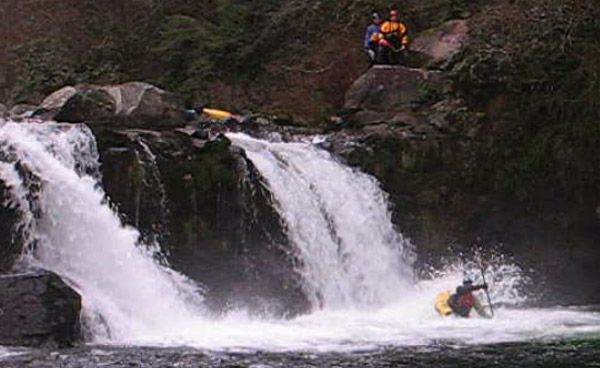 That's me. In my boat. At the bottom of the drop. Took a big brace, but damn was it fun.
Below
Sunset Falls
, the river offers class II and III riffles until
Hippie John's
, a short drop with a large midstream boulder. Either side goes at this level.
Video:
Hippie John's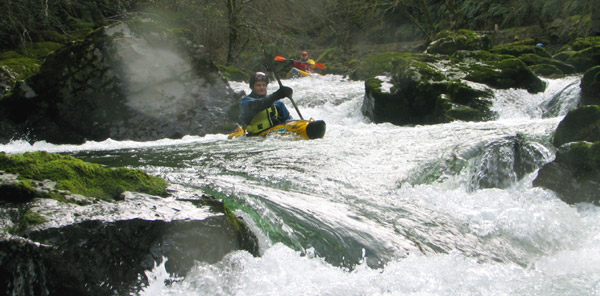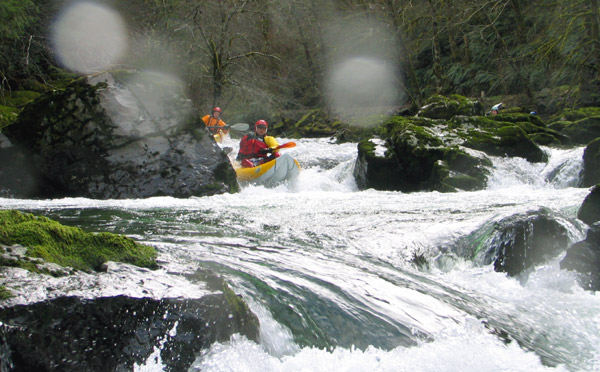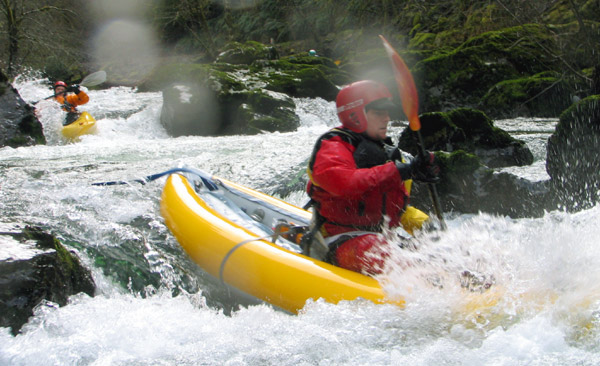 Hippie John's.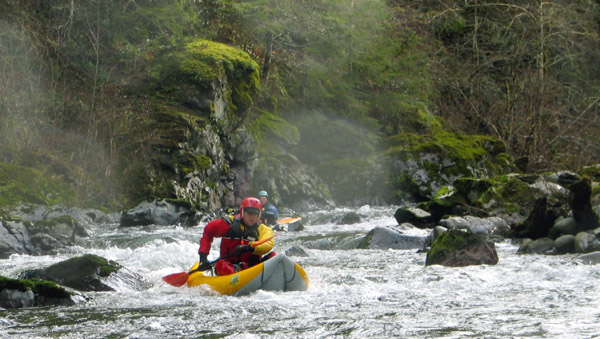 A typical drop in this section.
Next up, in quick succession, is
Sky Pilot
, one of my favorite drops on this run. We had a bit of carnage here, but everybody came out safe and sound.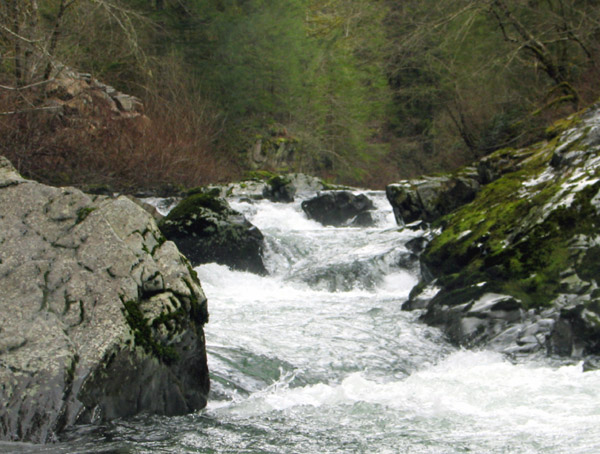 Sky Pilot.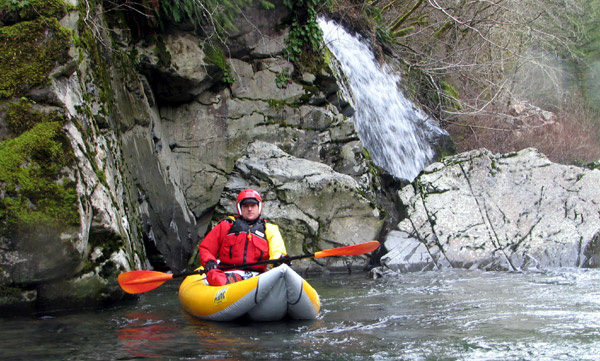 Shaun says "I like creekin!"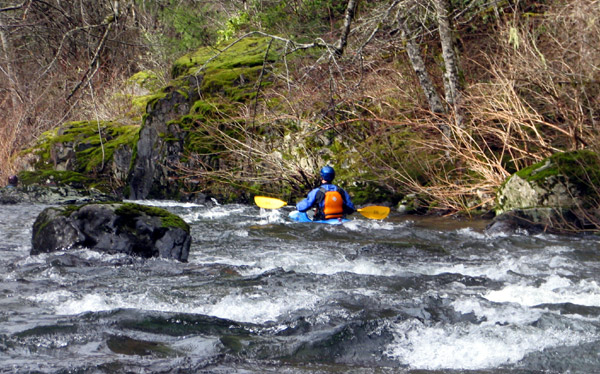 There's a funny shallow ledgey drop between
Sky Pilot
and
Screaming Left.
Stay right. Beautiful section of river.
Roughly fifteen minutes below Sky Pilot come
Screaming Left
. I enjoy the line in this one -- it's one of the toughest on the run. At this flow, the far left chute at the bottom goes, which makes the line a bit easier if you get pushed too far left on the right-to-left move.
Video:
Screaming Left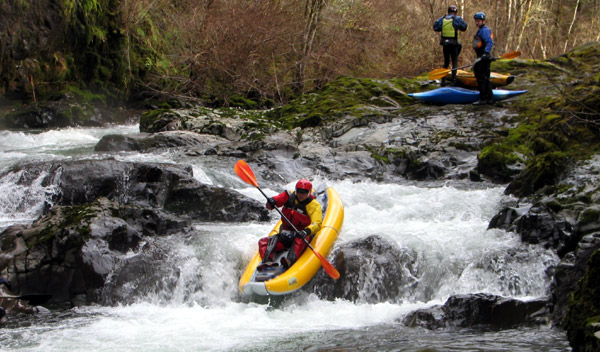 Shaun gets it done in
Screaming Left
.
Immediately below
Screaming Left
is
Dragon's Back
, a steep ledge hole best run on the right.
Video:
Dragon's Back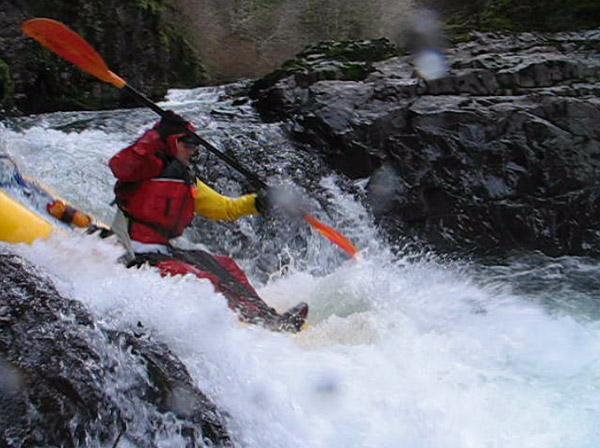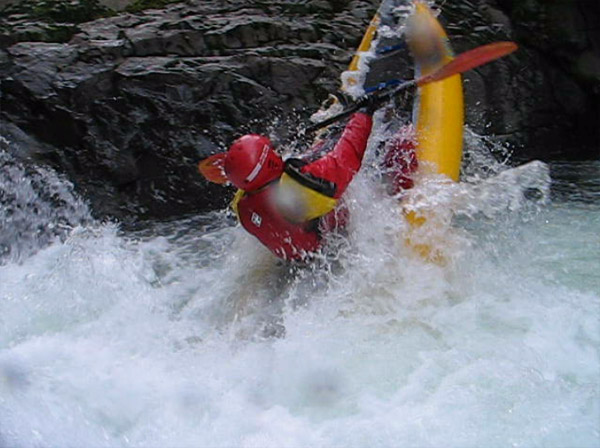 Shaun gets a lively tailstand in
Dragon's Back
.
There's a beautiful but short gorge here, with wonderful pools. Too bad the EF Lewis couldn't give us a version of
Final Five Canyon
...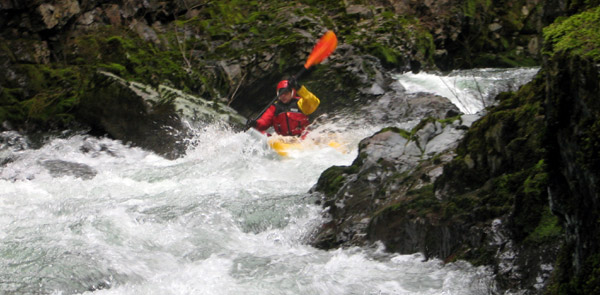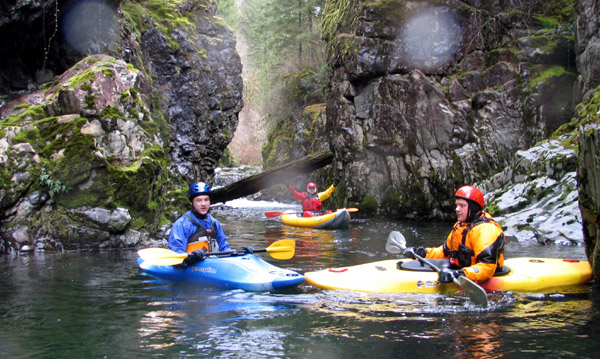 The canyon below
Dragon's Back
.
Below this scenic gorge, one final drop awaits:
John's Swimmin' Hole
. This starts off with a lateral curler before dropping over a nice ledge hole.
Video:
John's Swimmin' Hole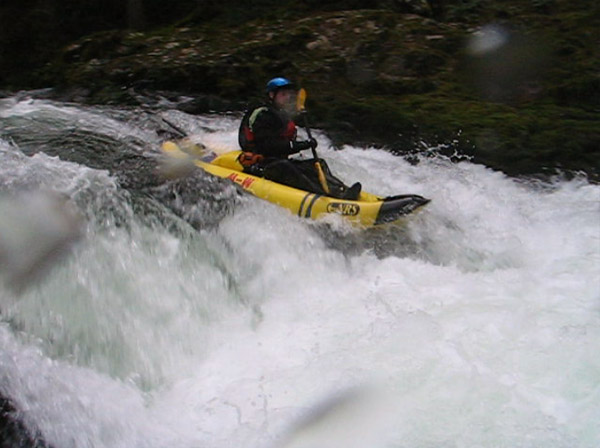 The author in
John's Swimmin' Hole
.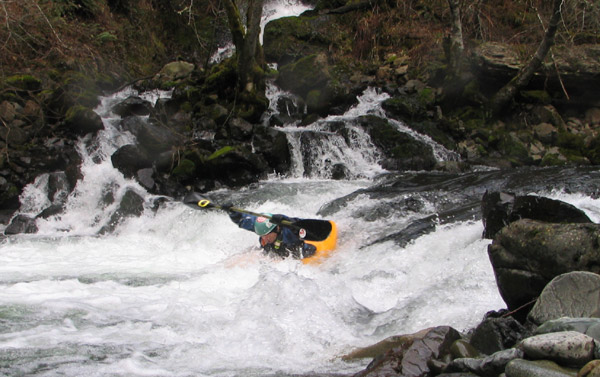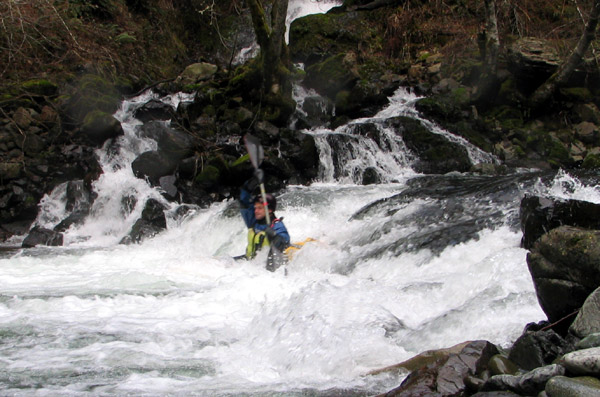 Just below
John's Swimmin' Hole
is a short ledge drop above the Copper Creek confluence.
Once below Copper Creek, the East Fork loses a bit of punch. Rapids are mostly class III, with a couple of larger drops.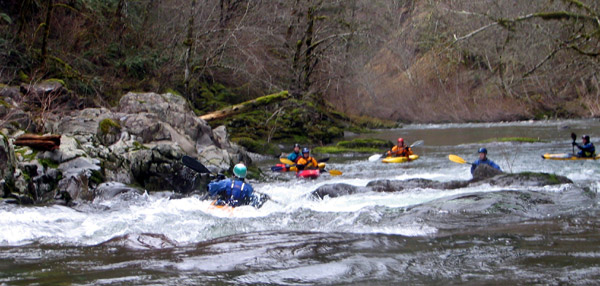 One of the bigger drops below Copper Creek. Somehow, somebody swims this one every trip. Keep a brace handy!
Video:
Horseshoe Falls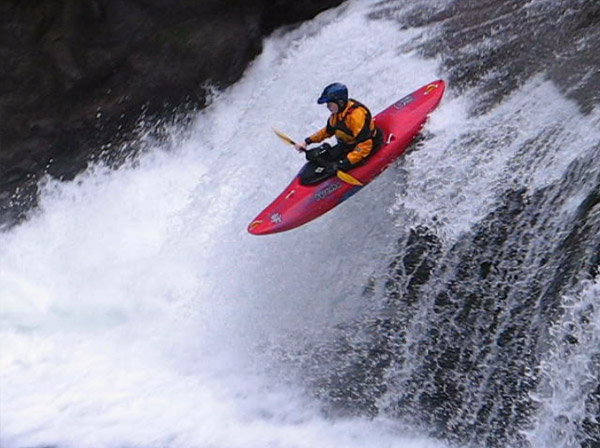 Last but not least, Horseshoe Falls awaits, for a final fun drop.