Lower Sultan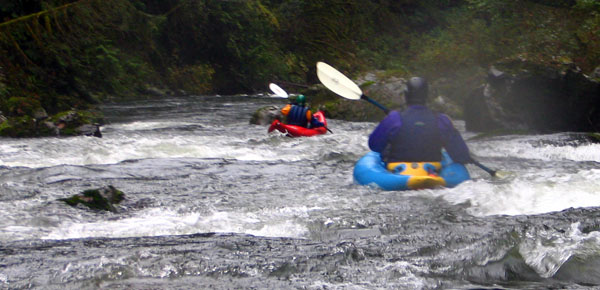 On Saturday, October 16, I finally got on the water again after a month of working on my new place. Steve, David, Dan and I headed out to the Lower Sultan with a flow of ~550 cfs. At the putin, we chatted with a couple just off the water. "Stay right -- the whole river. When in doubt, stay right." That advice made more sense at the bottom of the first drop, when we ran left around an island. Everybody else made it down clean, but I swam on the far left side of that chute and fell onto some rocks. I couldn't reflip my boat, so I regrouped in an eddy, thrilled to be off to such a great start.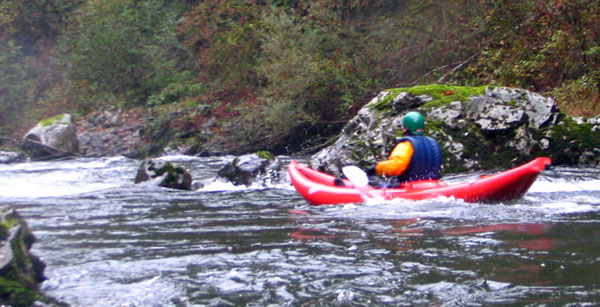 David floating on the Lower Sultan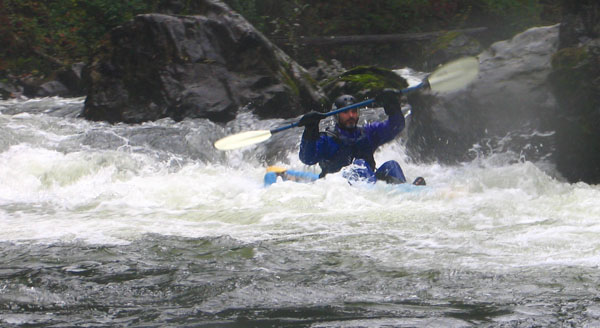 Steve on the Lower Sultan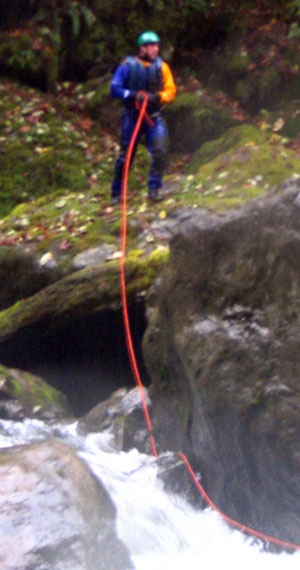 Back in my boat, we proceeded downstream, on the lookout for Last Nasty. Too busy peering around the corner to watch what I was boating, I swam on a tiny hole right above the scouting eddy. David had already dropped in, so I let my boat go down without me and I made it to the left bank. Steve opted to run without scouting, so Dan paddled across to the scouting eddy and threw me a rope. I swung over, and we made our way down the river right bank. Halfway down, we gave Steve the go-ahead signal and he dropped in.

After Steve's run, Dan and I finished our little walk and I was reunited with my boat. David and I tried to meet via rope (photo above is of David lining my IK), but could not quite make the throw. After hearing him talk about working on river left, I think I'll stick with river right in the future.

Steve in the top half of Last Nasty
Steve in the bottom half of Last Nasty

Below Last Nasty, we found some fun class III drops, and I was happily in my boat the rest of the day. The river below Last Nasty continues through the Tilton-like canyon, with dark, rugged rocks and glowing moss on the canyon walls. After perhaps a half-mile of whitewater, the canyon opened up and we flated 10 mintues of class II to the takeout. The unedited batch of photos from this trip are posted at my photo gallery page.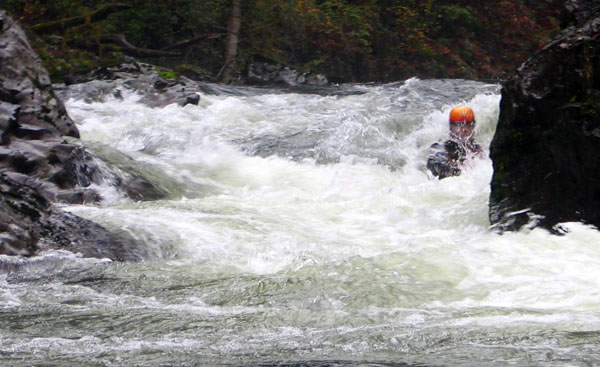 Dan inspects a headwall on the Lower Sultan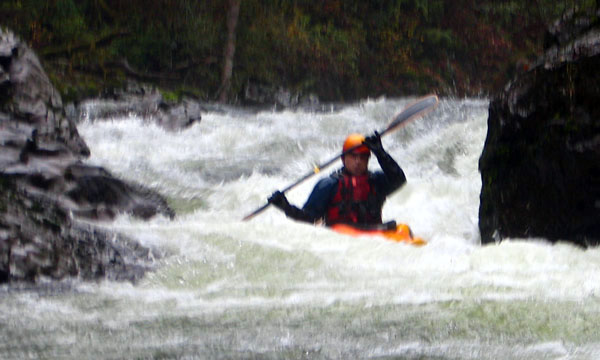 Dan clears the headwall on the Lower Sultan